As of August 21, 2012 the license application by Voice of the Shuswap Broadcast Society has been approved. Our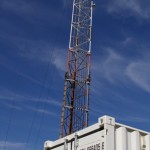 station call sign will be CKVS-FM and we will broadcast on a frequency of 93.7 MHz.
On September 4 we received authorization from Industry Canada to commence construction of the station. A motion was passed at the September 6 board meeting that VSBS proceed immediately with the transmitter installation on Tappen Mountain. During the week September 10 – 14, the equipment shelter was acquired, modified and transported to the tower site. VSBS is renting tower space on an existing facility owned by AirSpeed Wireless. Our antenna was installed on October 3 and during the week of October 8 – 12 our transmitter equipment will be installed, inspected and undergo a period of on-air testing.